E30 325iC 5-speed
By Dave McLaren

Looking for my E32 / E34 HID Install Guide? Click Here
Looking for my E34 M5? Click Here <- Not mine anymore!
Looking for my E38 740iL? Click Here <- Not mine anymore!
Looking for my E39 540i? Click Here
Looking for my E60 M5? Click Here
---
About this project: Learn about the people, shops, and manufacturers who made this project possible.
5/2/09: The rear seat cushion (bottom) had shrunken old leather. It wasn't ripped, and though I tried to save it with Leatherique, it wasn't working so I ordered new leather. Received the package a couple of days ago and opened it up. Click here to have a look.
3/11/09: It's been a long time since there was an update, but there were a couple of big problems in the engine. Anyway, enough about that. The car is running and I'm driving it again. We installed a VDO gauge console with Oil Temp, Oil Pressure and Vac Hg/Boost PSI. Click here to take a look at how the car is now.
7/07/08: The Rising Rate Fuel Pressure Regulator (RRFPR) is installed. Click here to have a look. The front suspension is being installed, and the front wheel test fitted. Click here to have a look.
6/20/08: The motor is installed, but there is still more to do. A new E36 M3 radiator is going to be installed. Lots of new parts under the hood. Click here to have a look. The E30 M3 5-lug setup is being restored with lots of new stuff too. I have added a new section to this site to cover the suspension, brakes and wheels. Click here to have a look.
5/14/08: A little bit more has happened on the motor, the new driveshaft arrived, and the engine bay has been cleaned. There's still some cosmoline in the bay, but that will come off shortly. Click here to have a look.
4/24/08: The intake manifold, valve cover, timing belt cover, water-to-air intercooler, intercooler reservoir and a few other little bits have been powder-coated black. This motor is going to look great! Click here to have a look.
4/22/08: I couldn't get to CMW yesterday, but I did today. The motor is coming together nicely. Click here to have a look.
4/18/08: Ron called me this afternoon and the head is installed and the turbo also. I'll get some pics on Monday and post them then.
4/16/08: The motor build has been moving a bit slowly, but today. I took a few pics of the block with all the pistons installed, the ARP studs installed and the head gasket on. Click here to have a look.
4/4/08: I added a page about the staggered Style 5 wheels, even though they're not on the car yet. I do have some killer photos of Sveinbjörn Hrafnsson's S38B38 cabrio as well as another guy's E30 M3 cabrio, both with staggered Style 5s. Click here to have a look.
4/3/08: I stopped by Coast Motor Works to see how the motor build and TCD S-2 turbo install is going. At the moment, the freshened block is being assembled. Click here to have a look.
4/3/08: I added a page about the genuine M-Technic II body kit I scored from Funkmasta (aka Joe) on r3vlimited. Click here to have a look. A great score from a great guy.
---
2/12/08: Here are the Style 5 wheels, E32 spec 17x8 and 17x9 going on once the E30 M3 5-lug conversion is on. That'll happen after the TCD S-2 turbo system is installed.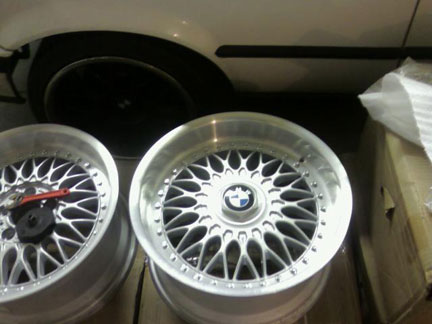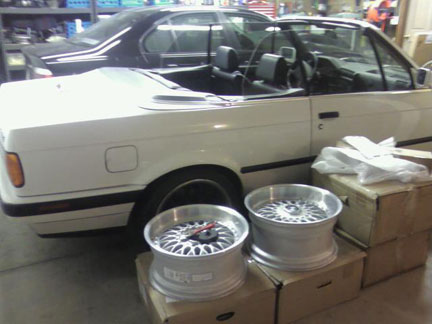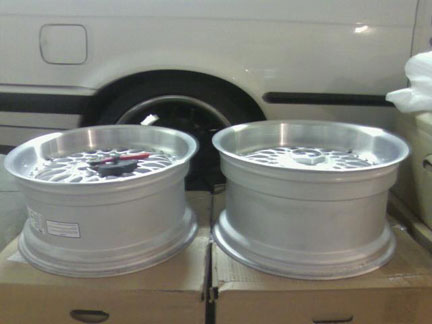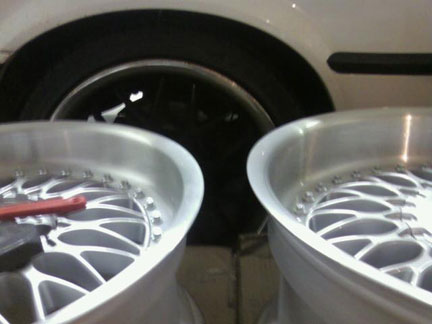 ---
3/5/08: Today the car was dropped off at Coast Motor Work for installation of the TCD S-2 turbo system. Once that's done, I'll probably have fun with it for a couple of weeks before it goes back to CMW for installation of the E30 M3 5-lug setup and installation of the Style 5 wheels shown above. Below is a review of the present setup on the car.
Running gear:
* SportMax 006 wheels, 17x8" and 17x9", both with 35mm offset. Cheap, yes, but a start.
* 215/40 and 245/35 Kumho tires
* H&R 15mm spacers all around, needed to bring the offsets down. Net of 20mm offset.
* H&R stud kit, needed because these wheels use those horribly named "tuner" lugs.
Lighting:

* Bosch euro smilies and H1 (or H4, I forgot) inner lights
* HID low-beams with 4300k bulbs
* LED license plate bulbs
* 57-LED bulbs for L&R brake and F&R indicators. 18-LED bulb for the CHMSL. Electronic flasher relay was required so the indicators wouldn't blink madly. I'm into the LEDs because I like the instant on/off function. The 57-LED and 18-LED bulbs are the stacked type and have pretty good brightness. I have to get around to dealing with the check relays and check control. I just unplugged the check control for now. That's lame, I know, but I'll get to it soon.
* I have an HID kit for the fogs but haven't gotten around to installing it yet.
Other:
* IS lip
* BMW leather shift knob with 5-speed gear markings and ///M logo (CMW ordered the knob, so don't shoot me over the ///M logo. I would have rather not had that. At least the car will smoke an E30 M3 in a few weeks. :- )
Here are some photos of the car, just before being pulled in to begin the TCD S-2 install.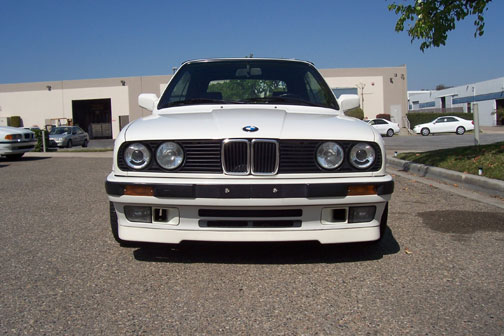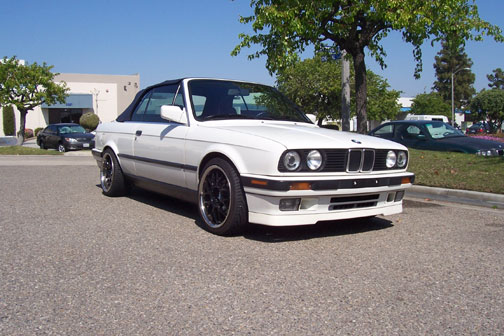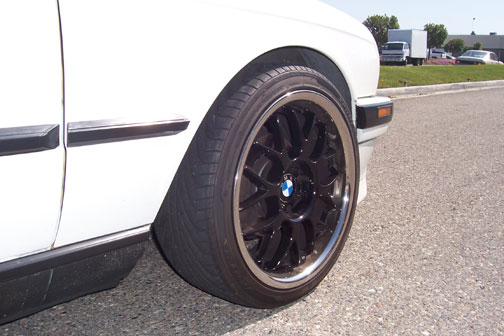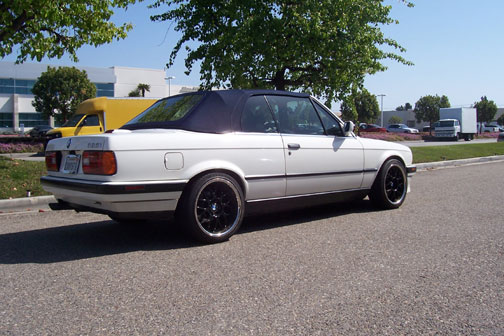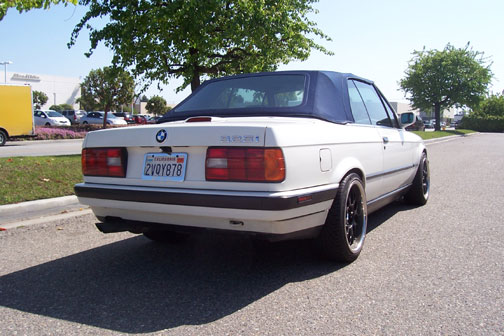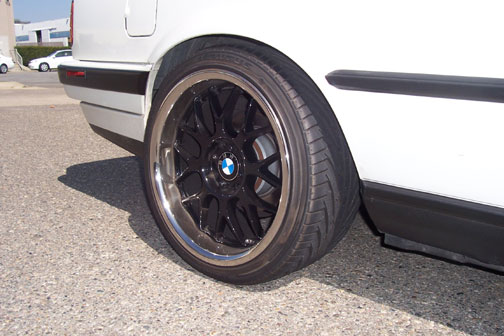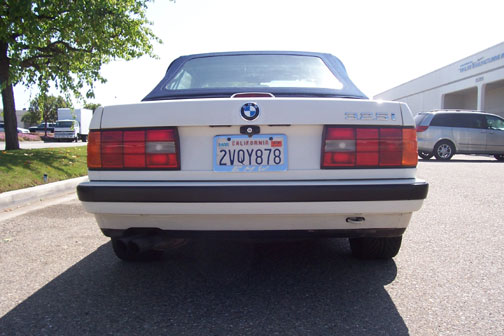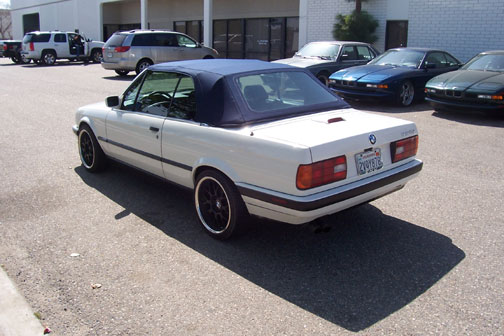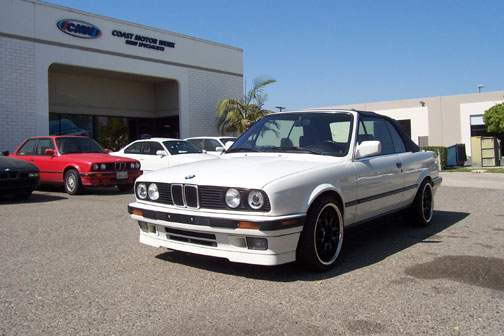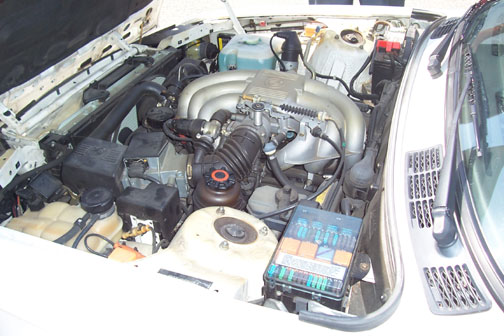 ---