1991 E34 M5
VIN # WBSHD9310MBK05417
I sold this car some years ago, probably around 2003.
Stuff below was prepared mostly for prospective buyers, but I worked
so hard on it I can't bring myself to take it down.

UPDATED TUESDAY 10/1 - For Service/Repair/Upgrade History Click Here
Compression Test performed. See the excellent results complete with ALLDATA® S38 Engine Data reference.
UPDATED WEDNESDAY 9/25 - To view the Photo Gallery Click Here
New! Photos with AC Schnitzer Type II wheels brand new (installed today) Yokohama AVS ES100 Tires.

Sizes: Front 18x8.5" with 245/40/18 - Rear 18x10" with 275/35/18
To view current registration Click Here

Looking for my E32 / E34 HID Install Guide? Click Here
Looking for my E38 740iL? Click Here <- Not mine anymore!
Looking for my E39 540i? Click Here
Looking for my E30 325iC? Click Here
---
The car is in good condition both mechanically and cosmetically. It has been a Southern California car all its life, and has no rust or nastiness anywhere. As far as I can tell, it was never wrecked. If you attended the BMW CCA Los Angeles chapter Clean Car Event this year, you probably saw this M5 on the lawn with a few of the other E34 M5 guys. I prefer to sell to a CCA member and even more so to an ///M enthusiast who understands these cars.
The car is near stock mechanically, with the exception of Bilstein HD front struts (recently installed), a Jim C. chip and K&N drop-in filter. Cosmetically, the car was completely resprayed a little over a year ago, with all bumpers and trim pulled. Since then, there are a few rock chips on the front but nothing major. The headliner was replaced last week and the door panels were recovered about a year ago. Those of you who know E34s understand this.
The car is not raced, nor is it even used for CCA Driver's Schools (I'm ashamed to admit, actually). I do like acceleration, especially on the freeway, and this car does in fact do quite well. But you knew that already.
Here are a few highlights of the modifications I've done to the car:
* Real Xenon / HID low beams with four fresh headlights. Genuine Philips ballasts used in the conversion.
* Genuine BMW red/clear tail lights and clear front corners. I have BMW side markers but never installed them. I still have the original stock lights, too.
* Genuine BMW Shadowline trim ordered from Germany through Maxmillian Importing.
* Genuine BMW European bumper trim which eliminates the US spec running lamps. I still have the orignal trim and lights.
* Genuine AC Schnitzer Type II wheels in 18x8.5" and 18x10". Tires are brand new Yokohama AVS ES 100 just installed today 9/25
* Titanium Cavallino titanium shift knob
* Upgraded stereo: Blaupunkt Newport CD/radio head unit, Blaupunkt soft-dome front tweeters, Kenwood 5-channel amp, MTX 8000 series 10" sub in compact enclosure, Monster Cable Pro RCA cable. Stock rear separates used, stock front woofers used, but with revised crossover points and low frequency filtering. Basically it's tight, clean and stealth.
As far as mechanical work, I welcome you to come have a look at my notebook collecting reciepts covering several years. I have also created an online version service history complete with scanned receipts. You're also quite welcome to a pre-purchase inspection. Those of you in the area will know Bullet Performance where most maintainance and repairs have been done in recent years.
Please note Carfax reports that the milage reported was inconsistent in '96, but this MUST be a clerical error at the DMV. Here's what it said:
On 02/23/1996 the odometer reading was reported as: 79,199 miles
On 02/27/1996 the odometer reading was reported as: 57,190 miles

--------------------------------------------------------------------------------

This represents a mileage decrease of: 22,009 miles

NOTE: Information supplied to CARFAX indicates the above odometer readings may not reflect this vehicle's actual mileage. CARFAX depends on its sources to provide reliable information and works diligently to ensure the quality of its Reports. In this case, we recommend you contact the seller or a qualified mechanic to verify this vehicle's actual mileage.

The dates, just a few days apart, and the incorrect, low number, is when the title was transferred that the milage is wrong. Milage that is written by hand and processed by the DMV and someone's ability to read clearly or write legibly.

This particular milage report before should be ignored. That 57k entry just doesn't make sense, as you'll see for yourself when you check Carfax, or more importantly, you see the service history of the car.
Anyway, the red dot on the odometer that lights up when the milage has been tampered with (for example, if you swap in a different cluster from a car with different milage) is not illuminated.
NEW! Photos below with the 18" AC Schnitzer Type II wheels and new Yokohama AVS ES-100 tires mounted (only 30 miles on them)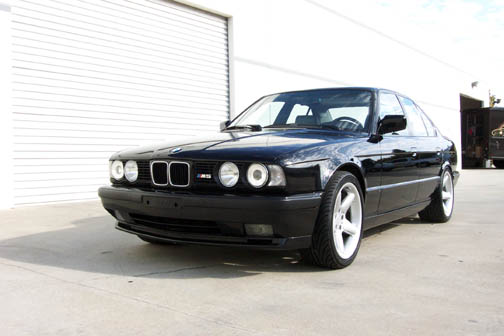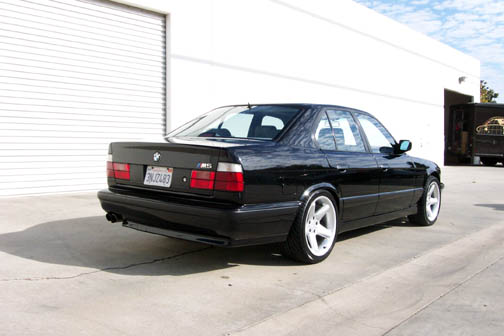 ---