E38 740iL
February 2008: This is now RonP's car.
Surely the car will become better/cooler/faster in Ron's care.


By Dave McLaren

Looking for my E32 / E34 HID Install Guide? Click Here
Looking for my (former) E34 M5? Click Here <- Not mine anymore!
Looking for my E39 540 Sport? Click Here
Looking for my E30 325iC? Click Here
---
Background and Purchase
I've owned this car for around seven years now. I bought it for my wife to use as a family hauler after our son was born, thinking that it's big enough to hold all the stuff from Costco trips and because it's a BMW - not a minivan or SUV. It was originally purchased from Westlake BMW here in SoCal, and the owner was apparantly some kind of rep as the service records indicated he was doing some huge milage, something like 40k a year. I think it had done around 160k when he traded it in, then a doctor bought it for his teenage son. Seems kind of odd that his kid would be high rolling in the E38 while he had a '95 540 6-speed, but hey, that was his prerogative.
The son drove it for a couple of years, but he had a bad habit of getting tickets. Right about the time of his last ticket, upon which he lost his license, he managed to learn a "hard way" lesson about available grip in rainy conditions. In his family neighborhood, he managed to hydroplane sideways into a curb. Nice. They got the car repaired, needing a front right quarter-panel, two new AC Schnitzer wheels (nice staggered ones with 255 and 285 P-Zeros), and probably some other bits as well.
At that point, his dad told him he'd better sell the car. I came across the kid's ad and gave him a call. He clearly didn't know jack but offered to put his dad on the phone. Dad clearly wasn't pleased that the kid couldn't even field a call worth a damn, but it was nice to hear that Dad did have a clue, and that in fact he was a pretty avid propellorhead. The car did have a load of miles, but it looked so nice in the pictures and the story seemed so good that I went and checked it out.
Man, the car was clean! Oh, and those staggered ACS type II wheels (18x9" and 18x10" with 255/45 and 285/40 P-Zeros) were gorgeous. Oh, and the kid pointed out that he'd just had Eibach springs installed. The car ran great, so I just took a chance and bought it. It wasn't big money anyway.
My Early Ownership
Keeping it Straight
The kid said something about the alignment, but I figured I'd get my tech to sort it out. Hey, how bad could it be? I had the car aligned, twice, but the thing still pulled hard to the right. My then-tech started replacing all of the front suspension parts, mostly stuff I'd expected to replace somehwere along the way anyway. But damn, if the car didn't still pull. Eventually, he gave up and I went with a high-end shop in OC that builds race BMWs too. They reviewed all of the reciepts from the prior tech and declared that he had just "thrown parts at it." What kills me is that they proceeded to replace the same parts, but using street names for them like "dog bones" and so on. Eventually they got sick of me coming around, complaining that the car still pulled, as though I was a lunatic.
That's when I found Ron Inchausti, who today owns Coast Motor Work in Huntington Beach (www.coastmotorwerk.com). I explained the situation to Ron, and he put the car on a lift. He carefully studied everything, then began measuring distances from here to there. In 15 minutes he had found the problem: the subframe had been bent slightly during the kid's accident. His body shop hadn't noticed, my first tech hadn't either, nor had the big-time shop. Ron ordered a new subframe, installed everything and had it aligned. The car finally tracked straight. Hallelujah.
Yeah, it's got Eibach Springs
It sure did. However, the kid didn't realize that the rear springs were not compatible with the self-levelling suspension. The effect was that the rear end would bounce wildly up and down when going over any sort of undulations. The stock shocks in front didn't exactly work wonders with the front springs, but the back end was like an amusement park ride. The cure was to remove the self-levelling rear system, so Bilstein HDs could be used on all four corners, suiting the Eibach springs perfectly.
Rides Nice, Goes Straight
At this point the car was sorted. Finally. It took, what, like seven or eight months to get to get it in order, but it drove beautifully. And it was great for Costco. Now there's got to be something to tinker with...
Pixels by Pixar
A bunch of pixels were out in the cluster, but unfortunately, this was way before folks were doing DIY fixes or those guys in Costa Mesa were offering their repair services in banner ads all over the forums. Were there any forums then? Maybe it was just the bmwdigest email forum thing. Anway, my tech, the original one, came up with a cluster with all the pixels intact. That, and it only had 75k on the clock. I wasn't much into looking at my crappy display, which on a good day revealed the fact that the car had like 210k miles on it. I'll take the 75k cluster, thanks. I didn't really care about authenticity, because I knew I'd tell a future buyer - if there ever was one - the facts of the case. Most likely, I thought at the time, the Sebener's next destination would be a recycler.
Lights, Action...
Lights, that's it. The rear lenses were so boring, and the late E38 crystal tails looked so nice. Gotta have 'em. And the front lenses were all yellowed. Not the glass, mind you, but the plastic lens deals inside. Geeking on the forums of the time netted some insight: I bought new OEM glass covers and the inner lens deals, complete with optional "chromeline" effect, from Bekkers. I bought some Philips ballasts and HID bulbs off eBay (long before that stuff was so widely available, and cheap, today. Oh well...) and converted to HID. Put some clear side markers in too, also supplied by the good folks at Bekkers.
The Seat of My Pants
Eventually, the driver's seat began to show wear and tear, and frankly, the seat sucked anyway considering how well this mammoth car handled. So I started searching for seats on eBay. I'd given up on this until one day I found an auction for some grey "740i" seats from a wrecker just 20 miles from me! Oh, man, they're sport seats! In my color! For like four hundred bucks! They're mine!
Naturally, it wasn't as easy as bolting them in. The connectors didn't mate so I had to figure it out, wire by wire, until the seats operated. Frankly, it's not the tidiest install, but it's out of sight so I haven't bothered redoing it. I really should, because I didn't get two wires hooked up on the passenger side seat for the seat belt pretensioner, so the damned SRS light is always on. Like four year later, it's still on. But the seats are muy bueno, amigos. It took me ages to get rid of the old seats for free.
Squeal Like A Pig
A long time had gone by, well, whatever long is, since my first tech removed the self-levelling rear suspension and installed the Bilsteins to play nice with the Eibachs. Funny thing, though, sometimes I could hear this odd faint squeal. It was just occasionally, though, so I never could put my finger on it. I guessed it was the warning sign of a rear wheel bearing going south. Ron heard it a bit and thought it was a bearing in the transmission. Now the '95 740s came with the 5HP30 trans, the same as used on all E30 V12s, and it's much more robust than the 5HP25 (20? I forgot what the number is) used on '96 and later E38 and E39 V8s. Guess that didn't matter, because a bearing was going south and I was going to take it like a man.
Then I noticed that the sound seemed to be strong when I had people in the back seat, or more likely, a load from Costco. Ron and I took turns driving around with the other sitting in the trunk. The sound was definitely coming from somewhere back there, and it wasn't a wheel bearing. Turns out the first tech had not really removed the rear self-levelling, but just the self-levelling shocks and screwed a bolt into the lines leading to them. There was still a diverter valve with an actuator arm attached to the rear stabilizer bar, so when weight was put in the back, the bar twists the actuator arm and releases pressurized fluid from the valve to pump up the rear shocks. Well, it was squealing because the valve was trying to shove fluid into bolts. Nice. Simply disconnecting the arm from the stabilizer bar cured the dreaded squeal forever.
Tranny Fever
There was an unfortunate aspect to discovering the true origin of the squeal. See, I'd already explained to my wife that the trans needed replacing, and that it was more cost-effective (or some sort of BS) to swap in a 6-speed manual transmission. Heck, I knew that wasn't going to be true, but hey, at least I had spousal understanding that the car needed to be fixed.
Some years earlier, before I bought this E38, I'd been in Frankfurt Germany and visited a colleague who had an E38 740i with the 6-speed manual trans and really though it was cool. So I was primed for the idea, and as soon as Ron thought the squeal was the trans, I jumped into research on doing the the swap, finding Simeon Macrides and his supercharged "Baby" as well as an old acquaintance from our E28 days, Rob Levinson, who by now had founded UUC Motorwerks and made his own 750iL monster with a 6-speed manual. I could make this happen, and I already had perfect cover because of the blessed squeal!
I started searching www.car-part.com for 6-speed manuals from wrecked 540s, and soon enough, I struck a deal with a yard for parts from a totaled 2000 540 Sport, including a transmission, slave cylinder, pedal assembly, flywheel, everything he had that seemed related to the swap. A week or so later, a couple of big wooden cartons arrived off a truck. Oh yeah, I'm in now.
Ron and I started cross referencing parts from the E39 and European E38 740i manual (no iL models were equipped with manual trans) to figure out what stuff from the 540 could be used. Turned out I needed a flywheel, maybe because my car had an M60 motor or something, and some other bits. The driveshaft was sent out somewhere to be modified. Ron ordered the euro parts as needed, including the leather shift boot. A fresh wood/leather 6-speed shift knob for a 540 capped it off.
Some weeks later, Ron had it all together and I had what I believe to be the 3rd long wheelbase manual trans E38 in the US.
Soundtrack Needed
A while went by before yet another OEM catalytic converter went bad. You guys know how these things are. However, with the manual trans I'd always wished I could hear the engine wind up, pausing between upshifts, matching revs on downshifts. This car was unique and cool now, and it needed a soundtrack to go with its personality. Rather than replace a factory cat again, I decided to do an exhaust from the downpipes back. Magnaflow cats and two Magnaflow stainless mufflers were installed with some pipe bent up, but it was god-awful loud. Sounded like a helicopter, too. Just crap. Remorse set in, but I went back to the shop and they installed a cross-pipe and some resonators. The car is still pretty loud, but at least it sounds manly. Lots of burble, with little pops when decelerating quicky from high rpm. I'd still like it to be quieter, but hey, I'm living with it. The mufflers do look pretty badass, though, especially because I notched the valence panel for the exhaust tips rather than just sticking them under the valance like a few other guys did.
At the time most of the photos below were taken, here's what went into the E38:
* Removed self-levelling rear suspension
* Eibach springs all around
* Bilstein HDs all around
* 20x9" and 20x10" Hartge Nova 7s, H&R 5mm spacers on rear
* 255/35 and 285/30 S-03 tires
* Chromelines in front from Bekkers
* Xenon conversion
* Red/Clear crystals in back
* clear sides
* 2001 740 Sport front seats
* manual trans
Early 2006: Wheel and Tire change
* Changed wheels to 20x9" and 20x10" Style 32
* 245/40 and 275/35 Firestone Wide Oval tires (S-03s too expensive for just tooling around town)
Sometime in 2007:
I've always loved Style 32 wheels, and when I found they came as factory upgrades for the E65 and fit E38s, that was all I needed. I got tired of paying so much money for S-03s when this car doesn't get driven hard, so I thought I'd try the wide ovals which (surprise!) come in 20" E65 sizes.

* Exhaust rig: Magnaflow 53005 cats (kinda small, would have prefer
At present, all I have are a few seriously crappy phone-cam pix to share.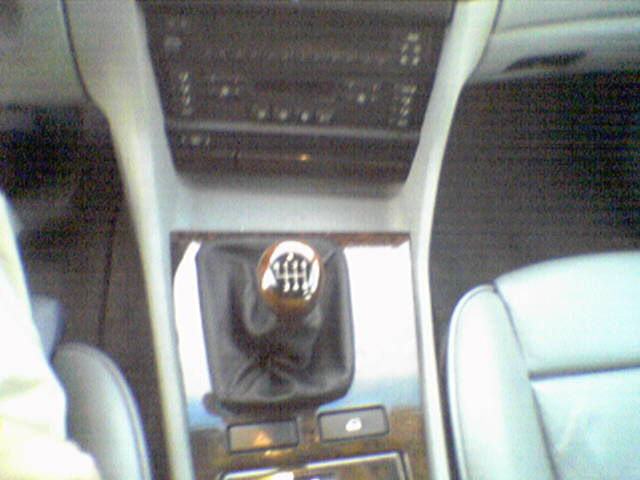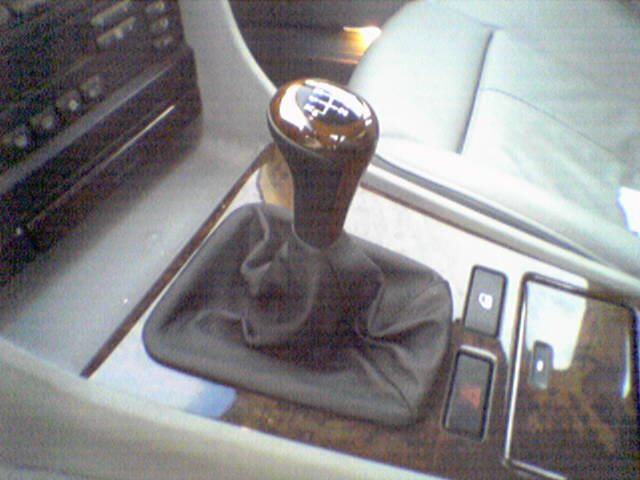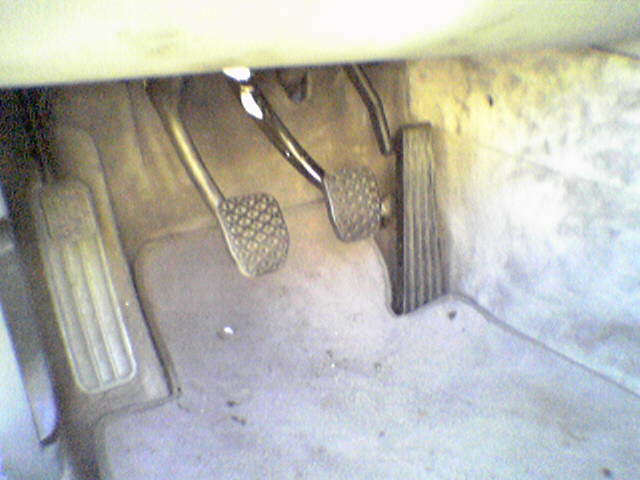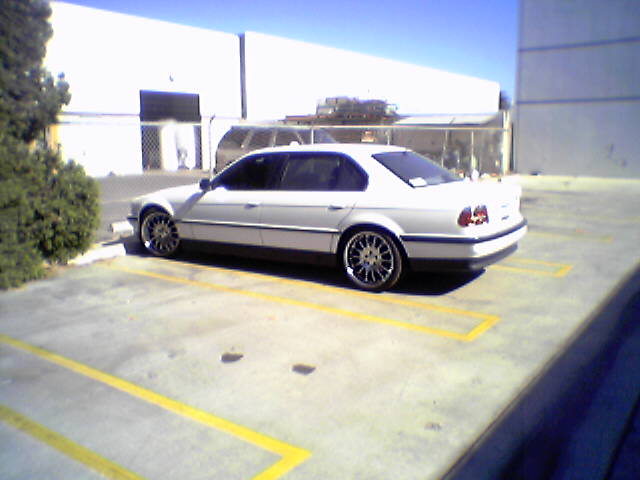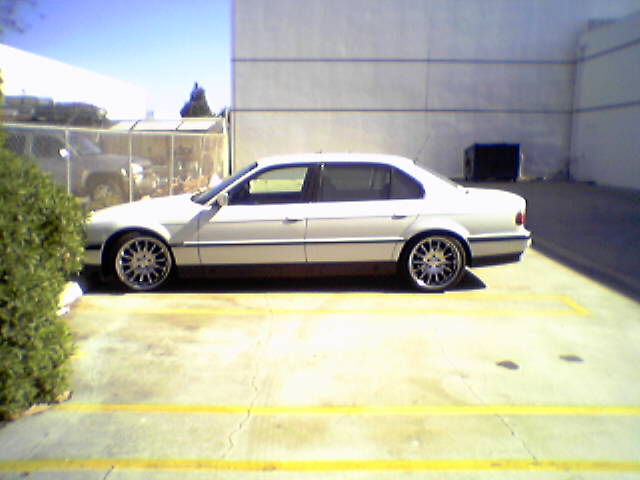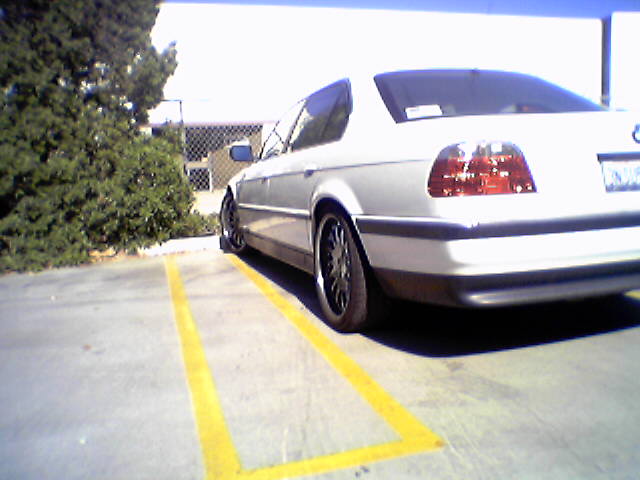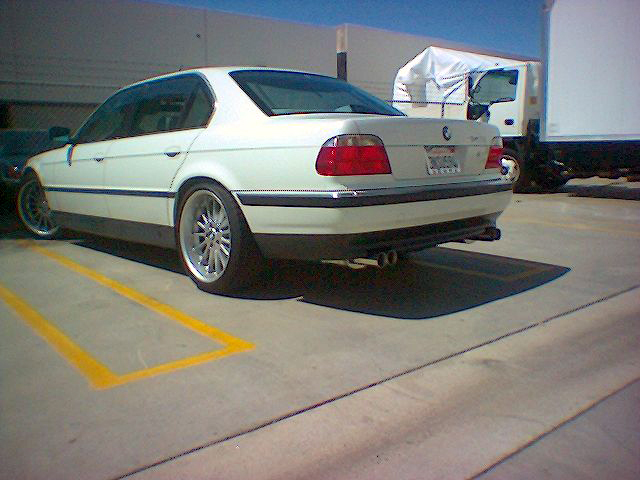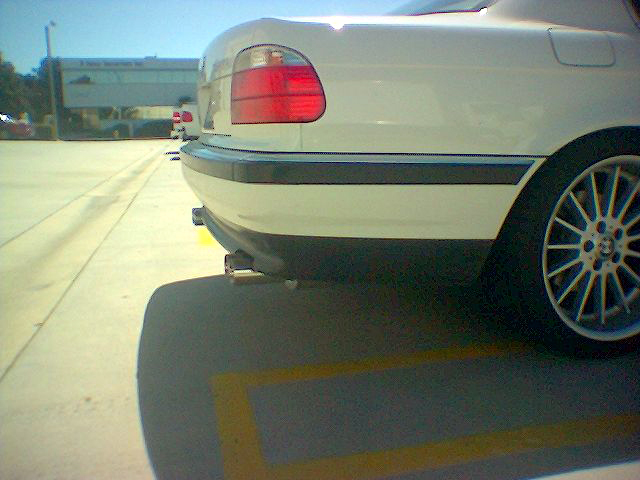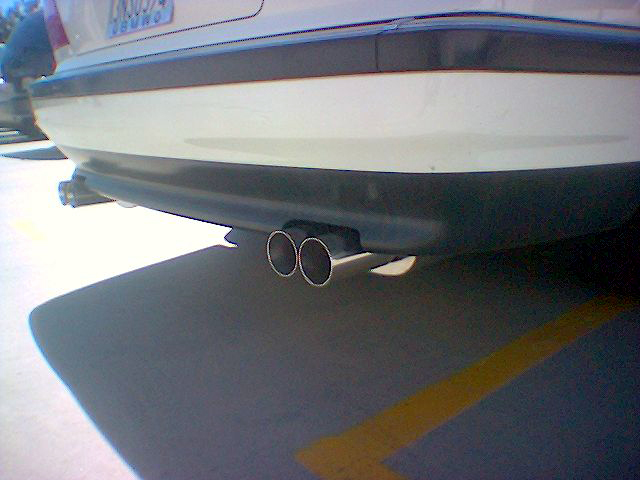 ---