Sean Radford on the Road and in the Studio with BBE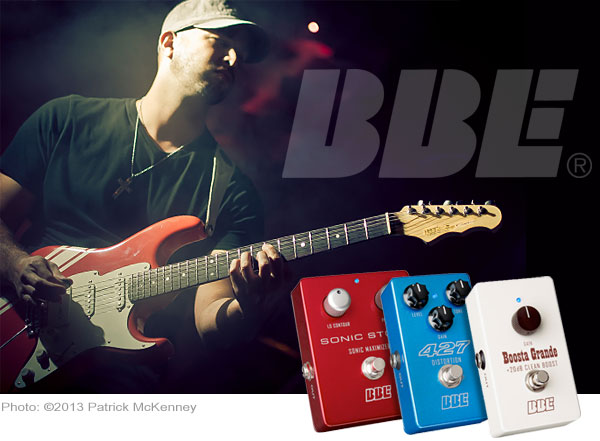 Guitarist Sean Radford is one of a growing number of players in the country music market that have become die-hard BBE users. And we're not just talking about The Sonic Stomp here! Guys like Sean are putting the versatility and durability of a wide range of BBE stomp boxes to the test, and not surprisingly, they are coming through with flying colors.
Sean is currently working with up-and-coming artist Amber Leigh and his pedalboard includes a 427™ Distortion, an award-winning Boosta Grande!™ and of course, the must-have Sonic Stomp™ sonic maximizer. We caught up with Sean last week and asked him about his BBE stomp boxes.
BBE: It's great to see you using a lot of BBE product.
Sean: I have been using BBE products for many years. Whether it's on my pedalboard or in my rack, I can always count on BBE to help me get the most out of my gear.
BBE: And your board includes a 427™ Distortion, right?
Sean: Yes. I really love the 427™ Distortion pedal. It has a big, fat, meaty tone but is still articulate and dynamic. And it's not a one-trick pony either; you can get great heavy sounds from it but it also cleans up very well.
BBE: I noticed a BBE Boosta Grande!™ and Sonic Stomp™ as well.
Sean: The Boosta Grande!™ pedal is my go-to weapon of choice for getting my solos to cut through the mix. It's really easy to use; just push the button and melt some faces! And the Sonic Stomp™ works wonders with all kinds of amplifiers. When I am in the studio and need to add some clarity to a dull or lifeless amp, the Sonic Stomp™ always does the trick.
BBE: Congratulations on the new video "Ignite the Night" with Amber Leigh. Anything else going on with you right now?
Sean: Thanks and yes. Today I begin recording all the guitars for a new debut album by up-and-coming gospel singer Keith Torres and I will have all my BBE gear in the studio with me! Keith and I have performed about 75 times together recently, and he's a great singer. The album is being done at a very well-known studio in West Palm Beach and will be full of first-rate players.
Live photo ©2013 Patrick McKenney