Nick Jaffe Demonstrates The BBE Mind Bender™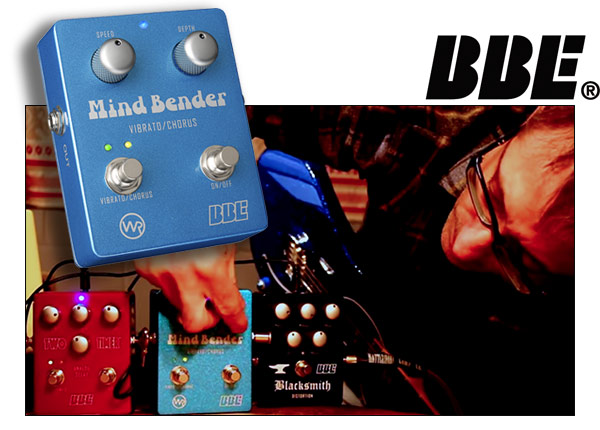 Nick Jaffe used his Blue Metal Flake G&L Fallout™ in a detailed demonstration of the BBE Mind Bender™ chorus/vibrato pedal. Nick really likes the Mind Bender's versatility and texture offered by its analog bucket brigade circuit, and offers praise throughout about the pedal's highest caliber components and build quality. Sit back and enjoy the mind bending goodness!
About the BBE Mind Bender™: Earning the Guitar World Platinum Award, Mind Bender is two pedals in one, with an authentic Bucket Brigade Delay circuit serving up supremely lush, warm chorus and the ultimate in classic vibrato. Inspired by the inimitable guitar wrangling of Will Ray and created by Paul Gagon, Mind Bender warps the sonic boundaries from gentle pulsation to spaced-out ray gun effects.

Mind Bender delivers the consistency and ruggedness that are the hallmark of BBE pedals, designed for guitarists whose gigs are as demanding as their ears. It's got a beefy mil-spec circuit board with big, fat signal traces, 1% metal-film resistors and high-voltage poly caps, all backed by robust, true hardwire bypass.

When you want the finest vintage analog chorus and vibrato experience without the headaches, Mind Bender is the one.