Paul Riario of Guitar World Reviews The BBE 427 Distortion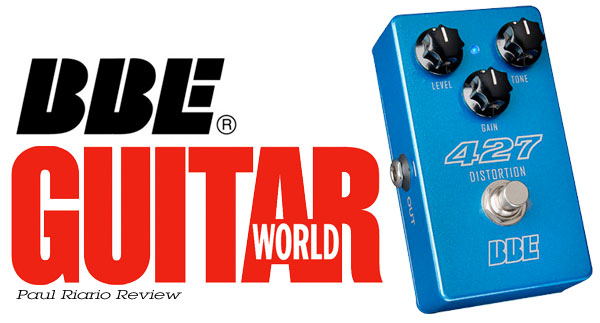 Guitar World Gear Editor Paul Riario has posted a great video review of the BBE 427™ Distortion. The review is related to a feature in the 2013 issue of Guitar World, and Paul takes you through the capabilities and sounds of the 427™ in the video, which is posted below. Visit Guitar World on-line at www.guitarworld.com.
The BBE 427™ is the modern muscle car of distortion pedals, with a big, meaty tone that's ready to kick ass. Another Paul Gagon creation, 427™ builds on his experience crafting pedals for the gods of rock, but this one's got a distinctly American voice.
427™ fires up with a potent variation of Gagon's proven LED-based distortion circuit as used in the BBE Blacksmith™, with the power flowing to a sweepable EQ (CSEQ) section inspired by an early '70s Big Muff Pi and optimized for maximum flexibility.
On a mission to raise hell on rock 'n roll streets from New York to L.A., 427™ delivers more raw power than yesteryear's muscle with better handling. With a beefy mil-spec circuit board sporting big, fat signal traces, 1% metal-film resistors and high-voltage poly caps, 427™ is engineered to be deliver rock-solid performance and never leave you stranded. And when you aren't in the mood to lay down serious rubber, 427's true hardwire bypass lets your tone slip by without so much as angry glance from the tone police.
Find out more about the BBE 427™ Distortion here.