Jerry Cantrell
G&L and BBE on stage. The perfect combination.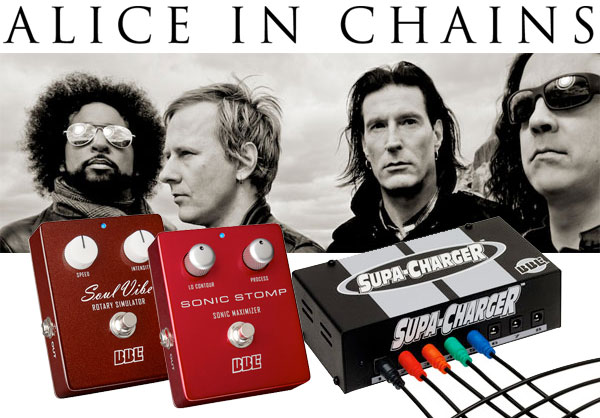 Jerry Cantrell rose to fame in the early 90's as lead guitarist, co-lyricist, co-vocalist and main composer for the legendary band Alice in Chains. In addition to his work with Alice in Chains, Jerry has released two solo albums and has composed music for several movies, inluding Last Action Hero and The Cable Guy.
It's no secret that Jerry is a fanatic for BBE's sister company, G&L guitars. You can catch him onstage any night with his Rampage®, Superhawk™ or ASAT® G&L models, but did you know he is a BBE Sound stompbox enthusiast as well? We got some up-close and personal photos of Jerry's rig during rehearsals for the current Alice In Chains tour and spotted a Supa-Charger™ power supply, a Soul Vibe™, and a Sonic Stomp™.
There's no doubt about it, G&L and BBE are winning combination. Keep your eyes open for upcoming Alice in Chains shows.